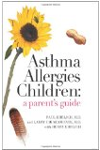 Most moderate to severe allergic or asthmatic children need to be supervised to take their medication at least twice daily. That's at least two times a day the parental figure's attention is drawn away from the well children. How do you reduce the feelings of neglect on the part of the well children?

Get them to act as assistant caregivers and help the parent give the medication. When you take the medication down from its secure location, give it to your assistant to carry. Secure storage is crucial - you don't want anyone to play doctor when you're not around.

Explain each step as your physician taught it to you. Repeat the names of the medications and delivery devices. Take the mystery out of medication and replace it with fun and understanding.

Reinforce the message - and take the attraction out of all the attention that comes from being sick - by playing a game of role reversal. The sick child can act out becoming the assistant caregiver for the well child.

Above all, make sure that all children get time during which they are your sole focus.