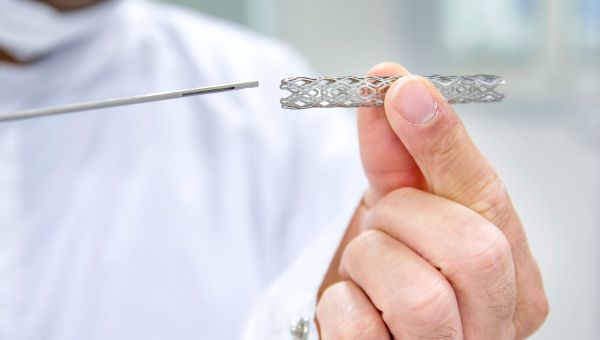 New research suggests when stenting can truly make a difference for patients with chest pain.
Each year, hundreds of thousands of Americans with heart disease get a stent—a tiny mesh tube just a tad wider than a toothpick—to open a blocked or narrowed artery to relieve repeated bouts of chest pain that occur as a result of physical activity, such as walking up a flight of stairs. The condition is called stable angina; the chest pain can also result from extreme emotional distress.
Stents can also be life-saving when used to open the blocked artery of a heart patient in the throes of a heart attack.
But now the results of a 2017 study, led by a group of cardiologists at Imperial College London in Great Britain, has stunned many in the medical community and raised the question: Are stents an effective form of treatment for patients with stable angina—does it truly relieve chest pain?
One of a kind study
The study, called ORBITA, and published in The Lancet, included 200 patients with stable angina and severe blockage of a single artery. After receiving six weeks of medication optimization and taking an exercise test on a treadmill, 105 underwent an angioplasty—the procedure used to insert a stent; for the other 95 patients, the procedure was stopped at the point where a stent would be inserted. Neither the patients nor the researchers, who analyzed the results, knew who received a stent.
What made the study unique is that there was a control group of patients who did not receive a stent, which is unusual for a study of this kind.
Startling results
After six weeks, both groups were evaluated for chest pain frequency and again given a treadmill exercise test. The findings that have caused so much debate? Patients who received the stent did not have significantly greater improvement in exercise time or reduction in chest pain frequency.
Like many cardiologists, Lyndon Box, MD, an interventional cardiologist at West Valley Medical Center in Caldwell, Idaho, praises the way in which the study was conducted. But, he says, there are important factors to consider in evaluating the results:
It's a small study. According to Dr. Box, cardiology studies usually involve 1,000 or more patients. "This one had 200 people and the follow up was pretty short." A larger study may or may not have shown the benefit; clearly, more research is needed.
Study participants had a blockage in only one artery. "Most people who need stents have more than one blocked," he says. "Only about 1 in 10 people with a single blockage get a stent."
It's a short study. "The follow up was pretty short, only six weeks, so you don't know how these people are going to do a year or two later," Box explains.
Overall, "I'm probably in the camp of people that don't actually see this making a big difference," he says. His concern is that studies like this "can often get over-interpreted as simply thumbs up, thumbs down, stents are good, stents are bad."
The case for stents
"For people who have heart attacks, or what we call acute coronary syndrome, there's definite, overwhelming data that doing an intervention, or stenting, reduces the risk of death, repeat heart attacks, heart failure and dangerous arrhythmias," says Box. "So, they do have a role."
If you have stable angina, the benefit of stenting isn't always as clear. Box says the first approach to treatment is medication—but it's important for patients to know that "medical therapy for coronary artery disease does not get rid of blockages or actually fix anything. It simply limits the symptoms by decreasing the amount of work the heart is doing and improving the artery size by getting it to dilate."
He adds that when medications work, there may not be reason for a stent, although there may be other important considerations to take into account regarding a patient's heart health.
Box points out that the stenting procedure itself isn't without risks, so it's important to understand the goal of the procedure. "One of the good things about stable heart disease is that it's not an emergency, like a heart attack," he says. "If you're unsure about the procedure, it's okay to stop and think about it, get a second opinion."
Is a stent right for you?
If your cardiologist recommends a stent, be sure to understand the risks and benefits. Here, Box provides answers to common questions:
Will I still need medication? You'll need to take aspirin and another drug after getting a stent to prevent the risk of blood clots.
Can a stent become blocked? "Sometimes new heart tissue can grow and clog the stent. Drug-coated stents have reduced this risk."
Does a stent reduce my risk of a heart attack? "It doesn't prevent one. The things that have really been proven to prevent heart attacks and blockages in the arteries are a heart healthy diet, exercise and medication. Statins do a wonderful job of reducing cardiac events."
While the new study's results are intriguing, if you have stable angina, a frank discussion with your doctor can help determine if a stent can help manage chest pain.
Medically reviewed in March 2018.