Research on body weight and health often fails to tease apart the intertwined yet distinct risk factors of overweight, poor nutrition, and low levels of fitness. The assumption seems to be that people who are overweight also eat poorly and don't exercise. In real life, these factors vary from person to person: we all know thin people who eat tons of junk and never exercise and overweight people who eat well and are active. Our genetic makeup and metabolism, as well as our diet and activity levels, help determine our body shape and size. Studies have linked being overweight with an increased likelihood of developing heart disease, diabetes, and certain cancers. But it is important to remember that weight alone is not the sole or best predictor of health. Research that categorizes risk by fitness levels instead of by body weight shows clearly that both exercise and weight independently affect our risk of certain health problems. More research is needed, particularly to measure the impact of healthy eating and regular physical activity on people of all weights.
For now, it is clear that positive changes in any one of these areas—improving our eating habits, exercising regularly, or maintaining a healthy weight—will increase our chances of good health. The combined strategy of healthy eating and regular physical activity has yielded health benefits in numerous studies. One without the other doesn't seem to work as well as the two together.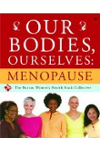 More About this Book
Our Bodies, Ourselves: Menopause
FROM THE EDITORS OF THE CLASSIC "BIBLE OF WOMEN'S HEALTH," A TRUSTWORTHY, UP-TO-DATE GUIDE TO HELP EVERY WOMAN NAVIGATE THE MENOPAUSE TRANSITION For decades, millions of women have relied on Our...
Continue Learning about Impact Of Losing Weight