Where you carry your extra weight is as important as how much you are carrying. You are either a pear who carries your extra weight around your hips or an apple who carries your extra weight around your waist. It is better to be a pear than an apple. Those of you who inherited apple-shaped bodies, with weight carried at the waistline, are at increased risk for overall health problems such as diabetes, heart disease, high blood pressure, and obesity. You were born this way, but you can decrease your health risk by minimizing your fat storage through activity. As long as you avoid excess weight, being an apple or a pear doesn't put you at special risk.

If you are sitting there shaking your head doubting this whole fruity business, I don't blame you. But this is serious stuff. If you are an apple, raise your hand. According to Dr. Paul Ribisl, the former chair of the Department of Health and Exercise Science at Wake Forest University, apple-shaped people spend more on healthcare and medication than smokers or alcoholics and are most at risk for developing diabetes, high cholesterol, metabolic syndrome, and all the morbid consequences of these diseases.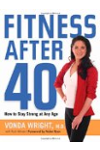 More About this Book
Fitness After 40: How to Stay Strong at Any Age
It's one of the undeniable facts of life. After we reach a certain age, our bodies change. No matter how fit we may have been at 20, we're very different people after 40. But growing older doesn't...
Continue Learning about Impact Of Losing Weight