There are many risk factors associated with cigarette smoking. In this video, Jasprit Takher, MD, a practicing internist from MountainView Hospital, explains the risks of smoking, like lung disease, certain types of cancer and COPD.
Cardiovascular disease is just one example of the many possible health problems caused by smoking. For decades, doctors have known that smokers suffer considerably more heart attacks than nonsmokers. Heavy smokers are ten times more likely to have a heart attack than nonsmokers. Studies have reported that as many as 40 percent of all stroke victims are smokers. Smoking is one of the top three causes of impotence and decline in the quality of orgasm in both men and women. Also, smokers have the same amount of wrinkled skin at age forty as someone twenty years older. All of these are signs of inflammation in the arterial system or aging of the arteries.

Smoking has been tied to other kinds of aging effects, as well. Smokers are at a higher risk of macular degeneration, an eye disease commonly associated with old age, at a rate more than 2 1/2 times that of nonsmokers. Smokers are also twice as likely to get diabetes, and diabetics age at one and a half times the normal rate if the disease is just managed typically (as opposed to with tight control of blood pressure and blood glucose and some exercise). For people with mild thyroid disorders (more than 10 percent of Americans), heavy smoking can trigger thyroid failure, seriously raising cholesterol levels and further accelerating arterial aging.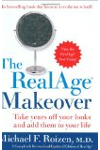 Continue Learning about Impact Of Nicotine Addiction On The Body

Nicotine addiction is just as strong as addiction to alcohol or cocaine, and it causes changes in the brain that make you crave nicotine even more. Once inhaled into the lungs through smoke, nicotine is absorbed into the bloodstre...
am and carried throughout your body. Nicotine can affect the heart, blood vessels, hormones and brain function. Learn more from our experts about how to overcome it.
More