Cigar smokers increase their health risks, whether or not they inhale. They directly expose their lips, mouth, tongue, throat, and larynx to smoke and its toxic and cancer-causing chemicals. In addition, when saliva containing the chemicals in tobacco smoke is swallowed, the esophagus is exposed to carcinogens.
Since cigar smokers smoke less frequently and do not inhale as much smoke, they often believe they are at a lower risk than cigarette smokers. They are wrong. Cigars are a particularly dangerous way to smoke tobacco. They produce more carbon monoxide and more particulate matter than cigarettes. And, just like cigarettes, they produce benzopyrene, hydrogen cyanide, and ammonia. Also, the greater amount of particulate matter that cigars produce makes them more dangerous, not just for the smoker but for those around him or her as well.

Cigars produce a more toxic form of secondhand smoke than cigarettes, so don't think that sitting in a cigar bar and not smoking isn't doing you any harm. And although cigar smokers claim not to inhale, this is often not true. Most former cigarette smokers continue to inhale when they take up the cigar habit.

Cigar smokers are more likely to get cancers of the lip, mouth, pharynx, and esophagus than cigarette smokers, and are about six times more likely than nonsmokers. Such cancers can often be fatal; even when they're not fatal, they can age and disfigure you. No comments, please, about Winston Churchill and George Burns. Although we don't know why these cigar smokers were fortunate enough to live so long (perhaps good genes or good habits), we do know that other well-known cigar smokers such as Babe Ruth and Ulysses S. Grant died young from throat cancers caused by cigars. Smoking one cigar a day makes your RealAge (physiologic age) 2.6 years older. Smoking five cigars a day makes your RealAge eight years older.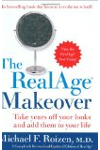 Continue Learning about Impact Of Nicotine Addiction On The Body