The wrinkling caused by smoking seems to be reversible in a noticeable way within a year or two of quitting. Although smoking a pack a day makes a person eight years older in RealAge (physiologic age), cessation of smoking can earn back seven of those years. Of course, the number of years you smoked before you quit determines somewhat how many years you get back. The sooner you quit, the better. In fact, if you quit before you smoke twenty pack-years and before age thirty-five, you get back almost eight years that you aged. The net effect of being a former smoker is that a person who stopped a one-pack-a-day habit at age forty-five is only about one year older in RealAge by the time he or she reaches fifty. So, while his or her calendar age has become five years older, he or she is really two years younger.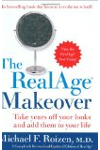 Continue Learning about Impact Of Nicotine Addiction On The Body

Nicotine addiction is just as strong as addiction to alcohol or cocaine, and it causes changes in the brain that make you crave nicotine even more. Once inhaled into the lungs through smoke, nicotine is absorbed into the bloodstre...
am and carried throughout your body. Nicotine can affect the heart, blood vessels, hormones and brain function. Learn more from our experts about how to overcome it.
More