How exercise works to enhance the immune system is not fully understood, although studies have shown that moderately vigorous aerobic training such as brisk walking is associated with an increase in the number of T-lymphocytes (also known as T-cells, which form part of the body's immune system) circulating in the blood. Exercise raises body temperature, which may also help kill some types of temperature-sensitive viruses or bacteria. Exercise is also generally associated with habits that promote overall good health, including good nutrition and a tendency to get adequate sleep, which may aid in the body's fight against infection.

However, high-intensity exercise of long duration leading to overtraining or "staleness" may actually lower T-cell count and slow the rate of antibody synthesis, suppressing the immune system and leading to an increased risk of infection. This explains the well-known phenomenon of athletes who become prone to colds one to two weeks following a period of intense training and competition.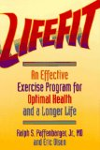 Both athlete surveys and randomized studies (done on all sorts of people) have shown that people who do moderate exercise on a near daily basis experience fewer sick days. Exercisers report taking about half the number of sick days as their sedentary peers and having 23 percent fewer upper respiratory tract infections.
Just like a healthy diet, exercise can contribute to general good health and therefore to a healthy immune system. It may contribute even more directly by promoting good circulation, which allows the cells and substances of the immune system to move through the body freely and do their job efficiently.

Some scientists are trying to take the next step to determine whether exercise directly affects a person's susceptibility to infection. In 2009, the journal Exercise and Sport Sciences Reviews published a review article in which the authors suggested that intensive exercise may suppress the immune system, while moderate exercise improves it. But conclusive evidence remains elusive.

Over the years, researchers have tackled this question from many directions. For example, researchers at Appalachian State University in North Carolina conducted a study showing that people who walked briskly for 45 minutes a day, five days a week for 12 to 15 weeks, had fewer cases of colds and flu than the sedentary subjects in the study. But whether the result was actually caused by the exercise or by other factors remains to be proven. The American College of Sports Medicine published a study in 2005 which concluded that a daily 30-minute walk did not alter several measurements of immune function.

In other research, scientists are looking at whether extreme amounts of intensive exercise can cause athletes to get sick more often or somehow impairs their immune function. While some changes in immune system components such as cytokines, white blood cells, and certain antibodies have been recorded, immunologists do not yet know what these changes mean in terms of human immune response. No one yet knows, for example, whether an increase in cytokines is helpful or has any true effect on immune response. Similarly, no one knows whether a general increase in white cell count is a good thing or a bad thing.
Continue Learning about Immune System