There are many treatments available for AIDS, but it's important to realize that none of them cure AIDS. The best they can do is control it.

The main drugs used to treat HIV or AIDS block the ability of the virus to make copies of itself. Current thinking is that it's best to combine at least three different drugs from at least two different classes of medication for treatment. This prevents the virus from quickly developing resistance to treatment.
Continue Learning about Immune System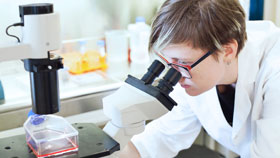 Immune and lymphatic system health is necessary for protecting your body from germs and diseases. Known as the body's first line of defense, your immune system and lymphatic system help protect you from bacteria, viruses and fungi ...
that cause disease. Your lymphatic system produces and carries white blood cells containing antibodies that fight off infection. Your lymphatic system transports and destroys dead or damaged cells and cancer cells, removing these substances from the blood stream. Problems with your immune and lymphatic system can result in various diseases. A weakened immune system can lead to diseases including cancer, the flu and chronic fatigue syndrome. An overactive immune system can lead to diseases including multiple sclerosis (MS), Huntingdon's disease and lupus. Allergies occur when your immune system mistakes harmless substances for threats and attacks these harmless substances.
More