Foods like sardines, papaya, carrots, miso, elderberry, and garlic can boost immunity. Learn more about these foods that boost immunity in this video with Dr. Oz.




Here are the top superfoods for super immunity:

1. Kale, collards, mustard greens

2. Arugula, watercress

3. Green lettuce, cabbage

4. Broccoli, Brussels sprouts

5. Carrots, tomatoes

6. Onions, garlic

7. Mushrooms

8. Pomegranate

9. Berries (all types)

10. Seeds (flaxseeds, chia, sesame, sunflower)

We have an opportunity to earn great health via what we eat. The combination of powerful protective compounds in foods such as berries and pomegranates that are so protective when combined with green vegetables, mushrooms, and onions in the diet begets super-immune function and fuels the miraculous self-healing and self-protective properties already built into the human genome. A combination of these compounds is more effective than a single agent, even in a high dose. Acting together, they fuel an assortment of mechanisms that both prevent cell damage and kill cells that cannot be adequately repaired before they can become dangerous to the body.

This "nutritarian" approach, which mixes the most powerful and protective foods in the diet, is natural and without toxicity, and can prevent many human tragedies, not just revving up our immune system against infection and cancer, but also preventing heart attacks, strokes, and dementia.

In every case, a moderate amount of these foods alone offers substantial benefits. However, my argument and recommendations are for people to eat significant protective amounts of these superfoods and eat them all or many of them in your diet. Super-immunity is created by a diet with a portfolio of immune-system-strengthening and cancer-fighting foods.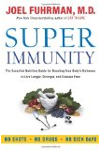 Many foods, such as oranges, yogurt and tea have been connected to boosting your immune system. A slightly lesser known nutrient found in fruits and vegetables such as carrots, tomatoes, radishes, wheat and pears is larch arabinogalactan. Larch arabinogalactan is a plant-based carbohydrate shown to have immune-enhancing properties when consumed in the diet. Unfortunately these foods contain very small amounts larch arabinogalactan. Alternatively, supplements provide a convenient way to get an adequate amount of larch arabinogalactan.
Continue Learning about Immune System