The effects of illegal drugs on developing babies are not well understood. It is often difficult to separate the effects of the drugs from the effects of the home environment, alcohol and tobacco use, and poverty. Current evidence suggests the following:
Women who use marijuana during pregnancy tend to have babies who are slightly smaller than the babies of women who do not use marijuana.
Women who use cocaine (or any of its derivatives, such as crack) or methamphetamines are more likely to miscarry early in pregnancy or to experience placental abruption in the later stages of pregnancy than women who do not use cocaine. Placental abruption is when the placenta separates prematurely from the wall of the uterus, resulting in loss of oxygen to the baby. It is potentially deadly for the baby.
Babies of women who use heroin or methamphetamine or one of many other street drugs are quite likely to be born addicted to the drug and to have to go through a withdrawal period that can be very difficult for them.
Women who use opiates (e.g., heroin and morphine) during pregnancy are more likely to have miscarriages or stillbirths than women who do not use opiates.
The use of cocaine and opiates during pregnancy may have a negative effect on the long term development of babies, but the research is not definitive.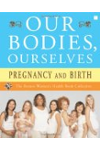 More About this Book
Our Bodies, Ourselves: Pregnancy and Birth
ALL THE INFORMATION YOU NEED TO MAKE WISE DECISIONS ABOUT YOUR PREGNANCY AND THE BIRTH OF YOUR CHILD -- FROM THE EDITORS OF THE CLASSIC "BIBLE OF WOMEN'S HEALTH" Pregnancy and birth are as ordinary...
Continue Learning about Illegal Drug Use