While its a good idea to try a high fiber diet, many people with IBS find it doesn't help, or may even make symptoms worse. In that case, a FODMAP elimination diet might help you figure out what kind of, and how much, fiber you can tolerate. FODMAPs are certain sugars and certain fibers in the diet that can cause gas, bloating, diarrhea and/or constipation for sensitive individuals. A FODMAP elimination diet is a learning diet. At first you limit all of the suspect fibers, then you add them back to your diet in a systematic way to see how they affect you. Because of the well known health benefits of fiber, you should ultimately eat as much of it as you can tolerate without discomfort.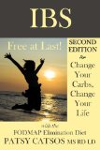 Patients with irritable bowel syndrome (IBS) may have a significant problem with abdominal bloating and flatulence when they increase the fiber content of the diet and do not seem to be able to adjust to the change. Because of an increased sensitivity to what is happening in the digestive tract, gas released by the breakdown and fermentation of the complex carbohydrates of fiber causes distention of the colon that is perceived as discomfort, bloating and pain. Furthermore, some people are more likely to produce gas than are others. If bran causes gas and flatulence, try concentrating on eating more whole grains, fruits and vegetables. Fiber supplements can be tried, and some products may be better tolerated than others.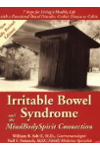 A high fiber diet excluding dairy, chocolate, eggs, spices, caffeine and wheat products may be helpful to get the condition under control. Once back to normal, you can slowly add in foods to see what you can tolerate. Everyone is different and over time you may be able to add all foods back into your diet. A high fiber diet that does not include the above would be foods such as oatmeal, fruits and vegetables.
This is a tough question to answer because IBS sufferers are so individual. What affects one person may not affect another. A good idea is to keep a food log and begin with foods that are high in soluble fiber. Try adding a small amount (1/8 to 1/4c) of one food that is high in soluble fiber. Drink lots of water and see what happens in the next 72 hours. If there are no symptoms, eat the same amount of the food and wait another 72 hours. If there are no symptoms, continue the food for two weeks. If there are no symptoms you have successfully added a high soluble fiber food.
Foods that are high in insoluble fiber like wheat bran tend to be more problematic. However, it is very individual and understandably frustrating.
Continue Learning about IBS Causes and Risk Factors