The term myxedema was originally used to describe a special type of skin swelling. Myxedema skin is thicker than normal, with a dry waxy coating. It has a "doughy" feel.
Myxedema skin is almost always caused by an underactive thyroid gland (hypothyroidism). This type of myxedema tends to affect skin over the entire body and face.
Over time, doctors began using the term myxedema for people with hypothyroidism even if their skin appeared normal.
Today, myxedema and hypothyroidism are often used to describe the same condition — a low level of thyroid hormone that causes some of these symptoms:
Sluggishness
Weight gain
Dry skin
Cold intolerance
Constipation
Muscle aches
Mental slowness
Doctors diagnose hypothyroidism with a blood test called TSH. A TSH greater than 10 is abnormal. But many doctors treat people who have a TSH greater than 3.0 if they have symptoms of hypothyroidism.
Treating myxedema caused by an underactive thyroid requires thyroid pills. Most often, doctors prescribe Levo-thyroxine. The starting dose is small. It is gradually increased until the TSH is in the normal range.
There is another rare form of myxedema called "pretibial myxedema." This can occur in people with Graves' disease. This is an autoimmune disease that causes the thyroid gland to be overactive (hyperthyroidism). In pretibial myxedema, there are patches of thick, waxy skin in the area over the shins. It is treated by controlling the hyperthyroidism of Graves' disease.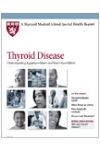 Continue Learning about Hypothyroidism