A person who is in shock may experience multiple symptoms, depending on the immediate cause of shock. You may become cold and clammy or sweat profusely. You may experience a weak but rapid pulse, shallow breathing, confusion, dizziness, anxiety, chest pain, or irregular urine output. You may become lethargic or have bluish or pale skin. With septic shock you may have no noticeable signs; for others, confusion may be your only symptom until kidneys begin to fail.
The following are the signs and symptoms of shock:
Blue/pale lips and nail beds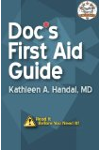 More About this Book
Doc's First Aid Guide: Read It Before You Need It
In a medical emergency, time is of the essence. "Doc's First Aid Guide" is an illustrated, first-aid pocket handbook designed to be used as a quick reference and includes the latest CPR guidelines....
Continue Learning about Hypotension