According to the American Psychological Association Division of Psychological Hypnosis, hypnosis "is a procedure during which a health professional or researcher, while treating someone, suggests sensations, perceptions, thoughts, or behavior, which the subject then experiences. Although some hypnosis is used to make people more alert, most hypnosis includes suggestions for relaxation, calmness, and well being." Although no randomized, placebo controlled trials have been conducted for hot flashes, some small-scale studies and anecdotal reports hold out promise for women experiencing mild to severe hot flashes, especially women with breast cancer.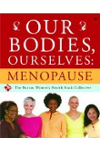 More About this Book
Our Bodies, Ourselves: Menopause
FROM THE EDITORS OF THE CLASSIC "BIBLE OF WOMEN'S HEALTH," A TRUSTWORTHY, UP-TO-DATE GUIDE TO HELP EVERY WOMAN NAVIGATE THE MENOPAUSE TRANSITION For decades, millions of women have relied on Our...
Hypnosis is a method of changing your state of mind by changing your brain activity. With the help of your healthcare provider, you become less aware of things around you. Your movement decreases and you are led to a trance or sleep-like state. Once you reach this state, your healthcare provider offers suggestions to decrease pain, fear and anxiety. Your healthcare provider will keep talking to you and guide you out of the hypnotic state.
Continue Learning about Hypnotherapy