A patient's history and physical exam are important factors in making the diagnosis of hyperthyroidism. Some patients may have tachycardia (i.e. a rapid heart rate), arrhythmias (i.e. an irregular heart rate such as atrial fibrillation), tremors, thyroid bruit (i.e. a rushing sound in the thyroid when listened to with a stethoscope), a larger than normal thyroid, and eye abnormalities (dryness, bulging eyes, double vision). Blood tests are critical to confirming the diagnosis. Patients with hyperthyroidism will usually have a low TSH and a higher than normal T4 and/or T3 level. In fact, some patients may have no symptoms at all, but blood tests that make the diagnosis of hyperthyroidism.
Diagnosing hyperthyroidism is based on history and physical exam findings along with appropriate laboratory testing. On physical exam, the physician may find that the patient has a rapid heart rate (tachycardia), irregular heart beats (arrhythmias, including atrial fibrillation), eye symptoms (such as dryness, burning, bulging, double vision), or hand tremors. In addition, the thyroid gland may be larger than normal.

Continue Learning about Hyperthyroidism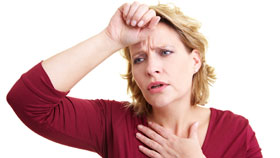 Caused when our body makes too much of a certain type of hormone, hyperthyroidism speeds up your body functions, like metabolism and body temperature. As a result, you may lose weight rapidly, feel your heart beat faster and sweat ...
excessively. A very treatable condition, hyperthyroidism, also known as thyrotoxicosis, affects only about 1% of all Americans.
More