High blood sugar is called hyperglycemia, or hyper for short. If you are a type 1 (T-1), anything above 300 for any length of time is dangerous. people with type 1 diabetes walk a mortality tightrope. Too high you die. Too low you die.

In the past it was accepted that people with type 2 diabetes just don't go into comas on the high end; but recently we're finding that's just not the case. You have to be higher longer, but you people with type 2 diabetes can check out on the high end too.

High blood sugar kills. It damages every internal organ.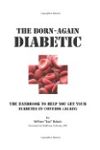 Continue Learning about Hyperglycemia
Hyperglycemia is a condition where blood sugar levels are increased. Hyperglycemia is usually the first sign of diabetes mellitus.