We all experience fear. It's a natural emotion that's essential for our survival. Fear (and the emotional part of the brain from which it originates) is designed to protect us from danger. But even good emotions can sometimes go bad or run a little wild.
For some, fear occurs more frequently or intensely than it should, or it happens in situations where it's less adaptive or just doesn't seem to make sense. Fears and phobias can stop us from doing things that are important to us, and can prevent us from living to our potential.
Mastering our fears can be a very difficult task but is well worth the effort. Through this process we become stronger and more confident. As we free ourselves from our fears, we become better able to live in accordance with our values, to explore new possibilities for our lives and to develop into the person we would most like to be.
This content originally appeared on
doctoroz.com
.
Fear is the most powerful emotion we experience next to love. Fear is at the root of greed, anger, hate, shame, envy, worry, and victimization. All of the great spiritual and religious leaders and their texts tell us fear will impede your full potential in your mind, body and soul. Fear is a poison if you desire to live a life to true happiness. Fear cannot be avoided as long as we are human, but the four roots teach us healthy ways to deal with our everyday fears. Fear creates stress chemicals that when released into the body can create illness.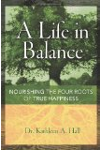 Continue Learning about Emotions