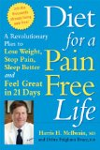 In studies at Duke University Medical Center, researchers found that healthy people who have greater anger, hostility, and depressive symptoms have higher C-reactive protein levels than those individuals who are calmer. C-reactive protein is a marker of inflammation and strongly linked to obesity, pain, and serious illnesses.
This finding from Duke is not surprising, as many patients with pain also suffer with anxiety and depression. As an example, findings indicate that up to 42 percent of those individuals with rheumatoid arthritis have a depressive or anxiety disorder; from 14 to 23 percent of patients with osteoarthritis have significant levels of depression; and the frequency of major depression in those with fibromyalgia extends as high as 71 percent of patients.
Patients with pain who are also depressed have significantly higher levels of pain, more painful joints, and overall poorer functional ability. These patients also tell of spending more days in bed than pain patients who are not depressed.