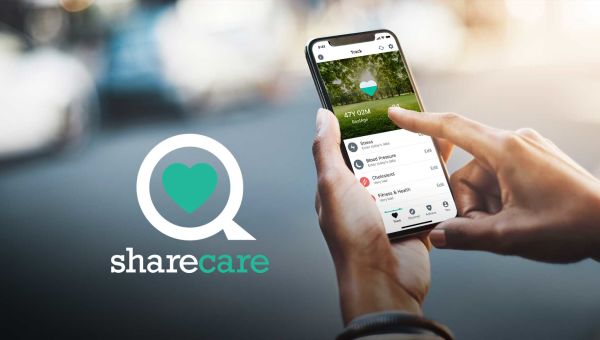 Get started with the RealAge Test and track your health to "live in the green" each day.
The Sharecare app can help you gather vital health information all in one place—and it goes beyond just numbers, like steps taken and blood pressure. Use the app to better understand your stress, relationships and how one aspect of your health affects another. No matter where you are on your health journey, the Sharecare app can provide personalized insights and advice, so you can live a healthier, happier life.

To receive daily insights into your health, start your profile with a few easy steps:

1. Take the RealAge Test. Answer honestly and you'll find out how old your body is compared to your calendar age. After taking this simple test, you'll receive personalized and actionable recommendations for improving your RealAge in the app.

2. Start Tracking. Each day, you can track 13 key health factors on the Sharecare app. From your stress levels, to how much sleep you get each night, the app provides a picture of your overall health, so you can start forming healthy habits to improve your RealAge. The trackers include:
Stress
Sleep
Steps
Fitness
Relationships
Smoking
Blood Glucose
Blood Pressure
Cholesterol
Medications
Diet
Weight
Alcohol
The Sharecare app can automatically track certain health factors for you, like steps. For Android users, voice analysis based on your phone calls can give you insight into your stress levels, whether your conversations are productive and healthy, or harmful.
Remember: everyone is unique, and you may not need to track each factor daily to achieve better health. Sharecare will help you determine what's most useful for your individual needs, based on your RealAge test results.
3. Earn Green Days. All of the health factors tracked in the app are measured on a Living in the Green scale. If you're eating well, have a healthy BMI and drink moderately, your day may look green. If you're smoking, have high cholesterol or aren't exercising, you may have room for improvement. Each health factor is measured on a scale of green to red, so you can easily see where to focus your effort.

4. Explore Sharecare's Health Topics. You'll receive relevant content based on your RealAge recommendations each day, but you can also follow topics that interest you. Want to improve your cholesterol or figure out a healthy recipe for dinner? Videos, articles and slideshows within the app make it easy. You can even 'favorite' content to read later.

What can else can you do with the app?
When you're not feeling well, you want to get help quickly. Sharecare has two resources that can help:

AskMD
Do you think you have a cold or dealing with pain that just won't go away? AskMD can help you discover what's possibly causing your symptoms. You can bring your results on the Sharecare app to your doctor for a quicker diagnosis.

Find a Doctor
Finding a new healthcare provider for yourself or a family member can be an overwhelming process. We have a simple solution: use Find a Doctor in your app to locate doctors and specialists qualified to treat your symptoms or condition. You can filter physicians by insurance, specialty and distance, and click to call directly from the app.
Note: The Find a Doctor feature may not be available to all Sharecare users.
Privacy and Security
Your personal health data is always 100 percent private and secure. For peace of mind, you can set a PIN to use with your app for extra protection.
Sharecare for iOS
Sharecare for Android
Medically reviewed in January 2020.