How can I get started and stick with a fitness program?
As a personal trainer, I advise my client to be selfish when it comes to finding motivation to exercise. If your goal is to look better in the class reunion or to impress your significant other, chances are you may not stick to the program. Your fitness program is more than losing a few pounds. It's about taking the time for yourself. It's about challenging yourself to become stronger. It's about an evolutionary process that allows you to grow as a human. It's about a unique way to love yourself and ultimately feel better.
Measure your success by how better you feel, not how many pounds you have lost. This way you never get off track and I guarantee you will feel so much better that you won't want to quit.
As you are enjoying this journey and not worrying about inches or pounds lost, you will soon notice the changes in your physique. The difference is you enjoyed everyday of your fitness journey and you are more likely to stick with it.
To get started with a fitness program with an intention to "stick with it" for life, it can help to be clear on our REASON. A powerful "why" helps with motivation to start and also to continue! Personally, after years of failed attempts to incorporate a fitness program into my life, what finally worked for me is to change my approach. Instead of placing focus on physical weight loss (wanting to be a specific weight or see a specific number on a scale which resulted in quick fix approaches), I finally had a more powerful "why". It was for my overall health so that I could be a good example to my son and others around me. Of course in the process of following a fitness program and making healthy nutrition choices, I was able to finally release unhealthy physical weight. Mindset, as others have said, is key to starting and continuing to make some type of fitness program a part of your life. The program can change based on your specific goals on an ongoing basis.
For a full understanding of your health status and general fitness before starting a fitness program, you should see your health care provider for a physical and medical clearance.
The following will help you get started and stick to a fitness program.
To prevent injuries when starting your fitness program, meet with a NASM certified personal trainer for a dynamic postural assessment. A dynamic postural assessment observes your basic body movements, how your muscles and joints work together, and to look for any imbalances or dysfunctions in your posture alignment that can be corrected
After completing your dynamic postural assessment, I highly recommend beginning your fitness program by completing (for 4 to 6 weeks) the stabilization endurance level of the NASM's Optimum Performance Training (OPT) model.
The stabilization phase offers many benefits to prepare your body as you proceed into your fitness training. The two best stabilization endurance training benefits I found are: preparing your body structure and connective tissues for the stress of strength training, and addressing and correcting restrictive flexibility, muscle imbalances and posture adjustments.
At this point of your training you will notice your mental health improving, while your body feels better and stronger, increasing your desire to commit to your program.
One of the best ways to stick with exercise and reduce your risk of discouragement or injury is to engage in activities that best suit your body. If you're very overweight, even walking may be out of the question, at least at the outset, although cycling may be ideal. An old knee injury might make cycling unrealistic, but perhaps you can swim. A low-impact aerobics class can provide a balanced, total-body workout that might be perfect for someone with tender joints. Tennis might be out for someone with problem shoulders, but walking might be the perfect activity. If you're physically frail from years of sedentary living, weight training, water aerobics, or yoga or tai chi are good starting points to build your strength and balance for other activities. There's really no end of possibilities.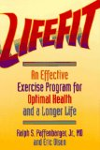 Choose a time of day that you will consistently work out and make it part of your schedule. Whether it's waking up an hour earlier, or working out during your lunch break, knowing what time you will work out each day keeps you much more committed than setting an arbitrary goal "to work out more."
Commit yourself financially. Whether hiring a personal trainer or signing up for a regular fitness class, knowing your fitness has a cost value - one you've already paid for - will motivate you to show up.
Set attainable goals. Recognize that it takes time to make changes to your body, and don't expect to lose ten pounds in two weeks. By setting goals you can achieve, you will see the progress you are expecting and be more enthusiastic about continuing your program.
Verbalize your goal to someone you know and trust. Knowing that someone else is supporting you and counting on you to follow through will keep you accountable, as well as give you someone to share your successes and frustrations with.
If you falter, just start again. Getting off track does not mean you've failed. Fitness is an ongoing process that's got to be a lifetime commitment, and the best way to commit is to put one foot in front of the other and just keep on doing it.
Lets think for a minute about the process. Most people who don't exercise fear it. As with anything 'unknown' it's scary to think about all the elements of an exercise program: what kinds of exercise do I do, how do I fit exercise into my schedule, where will I go to exercise, exercise is probably going to hurt, how do I keep going with exercise, etc. All of those things sound like feasible concerns and it's probably a little bit overwhelming, right? Many times when humans are dealing with overwhelming situations it's hard to sort through it all. Then we add a lack of clarification around what the clear benefits of exercise are (physically & psychologically) and how you gain access to those benefits so that they benefit you to the overwhelmingness of starting an exercise program and what you end up with is probably confusion.

Here are a couple of hints to starting and adhering to exercise:

1. Find your passion in exercise. Exercise can be fun. Some people dance because they love to dance. Others take indoor cycling because they love to cycle. What is one thing you've done in your life (when you were a kid) that you loved, that was active and that you are passion about?

2. After you find your passion start small. Start with one goal for example, walking twice a week for 30 minutes and add from there. Talk to friends about what they do. See if you can join them.

3. Find an exercise friend: family, friend or co-worker. Find an exercise partner who will help support your exercise program and you as a person and someone who you have good conversation with.

4. Do some computer research about what other exercise options are out there. There are SO many different forms of exercise and it's good to know what else is out there because you might find something appealing; something that you would have never thought of.



The important element of your success has been, and always will be, your mindset. The power of your thought drives every action, reaction, commitment and ultimately success you have in your life. Your mindset will get you moving and keep you moving! Make a decision and move. Focus on the real reason "why" you are starting your fitness program. Write down the first answer that comes to mind. Now ask yourself why this reason is so important to you. Keep asking yourself "why" until you drill down so deep into your core reasoning that you can't ask yourself "why" any longer. You have found your focus. Now keep it. Write it in large letters across a piece of paper and stick that piece of paper in places you visit each and every day, like a bathroom mirror or the refrigerator door. The why matters because it will help you stay accountable to how you create your change!
Next, invest in professional assistance! Health and fitness professionals are educated in the best methods, techniques and programming skills to provide you with individualized solutions that are based on science, not fads or gimmicks. A little assistance can go a long way in helping you reach your goals!

Starting a fitness program can be very rewarding. First, begin by setting your fitness goals. Decide what you want to get out of the fitness program. Studies have shown that knowing what you want to accomplish will help with motivation along the way and make you more likely to stick with your program. It is important to make sure your goals are specific, measureable, challenging, and realistic. It may help to start with a smaller goal. Small structured, attainable goals can help maintain motivation and provide a sense of progress and success. By making the goals measureable, you will be able to track your progress and give you a realistic evaluation of the success of your program. Setting timetables for your goals will also help keep you focused on your goal. To help you stick with your fitness program you can remind yourself why you are doing this. Create visual reminders by making yourself a poster board of everything you want from your personal health. Write out various positive results you seek to achieve through this new fitness program. You can also put together a collage of photos from magazines, or maybe hang out a new outfit and visualize how great you will look in it. Visualizing the benefits you will achieve from you fitness program can help increase your confidence and enhance your performance.
Continue Learning about How to Prepare for Exercise

Before you start an exercise regimen, it is important to consult a healthcare provider to ensure you do not have any conditions that may be hampered by exercise. If all is a go – read up on fitness tip, choose an activity, e...
stablish a routine and welcome the rewards!
More