STEPS should be your first step to becoming more active. Get yourself a pedometer to track them. You should be taking at least 10,000 per day. If you think this sounds like a lot, increase your steps slowly by 500 per day until you get to the 10,000 goal. You can easily add steps into your day by joining a walking group at work or walking during your child's soccer practice. As you get more comfortable with getting your steps in, challenge yourself to make some of these steps, running steps. See if you can run to the next tree and then walk the rest. Pretty soon, all of your steps will be running ones. Being more active is about getting out there and moving - taking more steps in your day is certainly a STEP in the right direction!
To start becoming more active it's helpful to first think about the things you already do that are active (i.e. gardening, cleaning, walking from your car to your office, etc.) and build on those things. For example if you already walk from your car to your office try to add another block or two every other day. Before you know it you will be several blocks away doing a split workout before and after work. Another step to this would be to add a quicker pace to your walks. Bring your iPod for added comfort and entertainment and at some point invite a few co-workers to join in.

In doing this you are fitting in being active, building confidence, building strength and increasing self esteem and all that's attached to a routine you've already been using and that works.
Your first step to becoming more active should be to set a goal. Make it a SMART goal – or one that is Specific, Measurable, Attainable, Realistic, and Time Sensitive.
Specific – be specific about it!
Measurable – how will you know you're progressing towards your goal?
Attainable – you have to be able to reach it.
Realistic – don't set a goal that is outrageous.
Time Sensitive – Set a realistic deadline, and stick to it.
After doing this – take the next step and become more active with a purpose!
You've made the commitment, and you're determined to become more active. You've been adding more physical movement to what you do at home, at work, or out shopping and doing errands. Now, the first step is to plan to do any kind of moderate-intensity exercise three times a week for 15 minutes. Brisk walking is a good way to start. You can also follow an exercise video in the privacy of your home. Try to stick to your planned time by scheduling other responsibilities around it. If something comes up that you must do, reschedule another time that week to take its place and stick to that. The important thing is consistency. It doesn't matter how little you do to start. Keep building on what you've accomplished, little by little.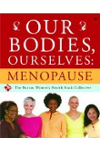 More About this Book
Our Bodies, Ourselves: Menopause
FROM THE EDITORS OF THE CLASSIC "BIBLE OF WOMEN'S HEALTH," A TRUSTWORTHY, UP-TO-DATE GUIDE TO HELP EVERY WOMAN NAVIGATE THE MENOPAUSE TRANSITION For decades, millions of women have relied on Our...
Continue Learning about How to Prepare for Exercise