Metabolism is the use of nutrients by the body. It is the chemical reaction in the body's cells that convert fuel from food into energy.
Metabolism is the process the body uses to convert food into energy. Your body either uses this fuel right away or stores it in body tissues, like your liver, muscles or as body fat. Many factors influence metabolism including sex, age, thyroid levels, the ratio of muscle to fat, and your emotional state.
This content originally appeared on
doctoroz.com
Metabolism is the term that describes the culmination of the two major processes that go on within our bodies on a daily basis. The first of these is called Catabolism, which is the "break down" of everything in our system on a molecular level on up, and includes everything from digestion, to the microscopic damage incurred on our bodies by all of our activities of daily living. The second process is called Anabolism, which as you might have guessed, is the exact opposite of catabolism. It is the constant process of repair on a molecular level on up, and includes everything from the absorption and assimilation of food, to how our muscles recover from any strenuous activity. It is also one of the reasons that we need regular sleep; The breakdown process (catabolism) is minimal and the repair process (Anabolism) is easier with the body at rest. Together, this entire cycle is called Metabolism.
The body is an energetic force -- it's dynamic and its operations can be viewed as a collection of basic, interlocking energy equations. Those equations are what make up our metabolism, which is the total sum of all the reactions that the body uses to obtain or expend energy from what we consume. If any one of those equations isn't fully functional, the whole system is impacted, and with sufficient disruption the system itself can start to falter.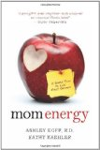 More About this Book
Mom Energy: A Simple Plan to Live Fully Charged
       From celebrated dietitian Ashley Koff and fitness trainer to the stars Kathy Kaehler comes Mom Energy, an exciting new way for moms to tap into their own natural and renewable sources of...
Metabolism, if you ask a scientist, is the "sum total of all the chemical reactions that go on in living cells." It's the speed at which the body produces energy, not just energy for the digestion of Ben and Jerry's, but for all our bodies' numerous chores. Metabolism is the rate at which your body runs your brain, your heart, your liver, your kidneys, your fingernails, etc.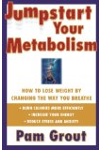 Continue Learning about How The Metabolic Process Works