Picture these mitochondria as your body's nuclear power plants. They give off a lot of energy but also have the potential to cause a lot of damage. If something bombs your power plant, it's not just the physical plant that suffers damage; a whole lot of collateral damage takes place as well. In the case of the power plant, it's radiation that seeps into surrounding neighborhoods and towns. In the case of mitochondria, it's those inflammation-causing oxygen free radicals, which also decrease the ability of your mitochondrial DNA to convert energy.

Both forms of damage spin into a cycle of destruction to your body's cells: Inefficiencies in mitochondrial function cause increased production of free radicals. And more free radicals cause more damage to the mitochondrial DNA, which makes them more inefficient, and so on.

For a business, inefficiency may mean losing money. But for mitochondria, inefficiency means you're that much closer to booking a bed at the extended-care facility. If your body can't produce energy efficiently, it means that mitochondria are not getting the most energy out of the oxygen and sugar that their furnaces are fed. So even if you have good nutrition in what you eat, lower levels of your body's energy currency, called ATP (adenosine triphosphate), are made.

We know that mitochondrial damage in the heart happens when your body no longer consumes oxygen and glucose efficiently. We also see mitochondrial damage in brain-related disease and in diabetes, where it influences the pancreas's ability to make insulin. In fact, mitochondrial damage may serve as a contributing factor to certain types of cancer, because the more oxidative damage that takes place, the more DNA is damaged, and that damaged DNA, when it's replicated over and over again, can evolve into a cancer.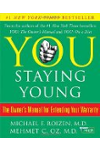 Continue Learning about How The Metabolic Process Works