Society dictates that we have ultraclean, germ-free, pristine homes. And to accomplish that, of course, we supposedly need a huge amount of chemical products in our arsenal. You may be surprised to learn, though, just how many household chemicals you can do without. Try this 4-week plan.

Week 1. List all the cleaning supplies in your house (don't forget those under your kitchen sink). Cross off all but the five you consider most useful. This week, use only those household chemicals you've listed as most important. Keep a record of what you really needed and couldn't use because it wasn't on your list.

Week 2. Add up to two more household chemicals that you wish you had on your list during that first week. Move the chemicals you're not using to a more inaccessible area of your house: a box in the basement or garden storage area.

Week 3. Donate all unnecessary household chemicals to the next household chemical clean-up day in your community.

Week 4. Now that you've weaned yourself from the plethora of marble cleaners and venetian blind concoctions, take a good look at the list of ingredients on the containers of the seven household chemicals you've decided to use.

Consider replacing each product with a less-toxic version of the same item. When you absolutely need to use a chemical for cleaning, buy the product in the smallest quantity available, and use it up rather than store it.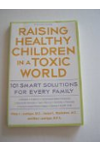 Continue Learning about Household Safety