Most homeopathic treatments are designed to treat common, household ailments like headaches, coughs, stress, or insomnia. Homeopathic treatments should not be used to treat complicated medical illnesses like diabetes, high blood pressure, thyroid conditions, or cancer. Plus, it should never be used in place of a prescribed treatment plan from your physician or other healthcare provider.
This content originally appeared on
doctoroz.com
Homeopathy should not be used to treat serious illnesses like heart disease and cancer. For these more serious illnesses, you should seek traditional medicine. However, many common, minor ailments are said to have been treated effectively with homeopathy. These include:
colds and coughs;
fever and influenza;
childhood maladies;
digestive problems;
earaches;
sore throats;
headaches;
allergies;
skin problems;
emotional distress and sleep problems.
Continue Learning about Homeopathy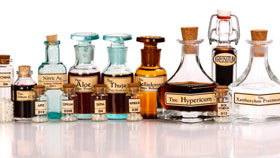 Homeopathy is a system of medicine that uses highly dilute preparations made from plants, minerals, or animals to stimulate healing.