Watch as I offer tips and tricks for eating better during the holidays.
Emotions are often heightened during the holidays.
Key steps to prevent emotional eating include:
Maintain a food and emotions journal to better identify when emotional eating occurs
Create a list of alternative activities for when you start experiencing strong emotions and are not actually physically hungry
Have a support system (family, friends, health care team)
Learn to understand signs of true physical hunger
Enjoy more mindful and conscious eating experiences rather than a distracted meals/snacks
Enjoy all foods in moderation
Incorporate regular physical activity during the holidays
Focus on the positive and enjoy time spent with family/friends during the holidays
What you should keep in mind when eating over the holidays is moderation vs. deprivation. You don't have to avoid any food as long as you control how much of it you eat. Control is very important in ensuring that you can safely consume most foods and still manage your medical condition.
If your medical condition is in good control, and you have been adhering to your dietary restrictions throughout the year, then most dietary restrictions can be relaxed during this time period, but the key is planning what and how much you'll eat.
Steps you can take to eat most foods over the holidays:
Know your dietary restrictions and their food sources
Plan your meals so that you can control what and how much you eat
Plan to adhere as closely as possible to your dietary restrictions by eating foods in moderation
With proper planning, most foods can be eaten around the holidays.
SO what about those of us who are not emotional eaters but still get in trouble over the holidays. Is it just will power that is our problem, or loving the taste of all the readily available good food? Or is it sometimes just mindless grazing and boredom. What tips could we try to help us make our game plan? How about getting rid of the cookie jar and snack bowls or making a healthy snack bowl filled with snack size bags of homemade trail mix, healthy cookies, dark chocolate or whatever healthy snack you like to eat. I carry some of my apples, pears, cookies, nuts, sugar free gum, dark chocolate whenever I go anywhere so I always have healthy snacks available. I choose dessert or alcohol but not both and if drinking one glass of wine after instead of before my meal. Drinking water before the event helps to hydrate me and make me feel fuller and helps me to distinguish between thirst and hunger. Having fun healthy desserts helps me stay on track and less likely to indulge at parties or holiday dinners. Taking food gifts and donating them to food shelters or pantry's or delivering to nursing homes feeds my spirit of giving and keeps those calories off my lips and pounds on my hips. On the Dr. Oz website Dr. Mike suggested eating flavonoids over the holidays to fight the effects of stress and serve as antioxidants and the holiday flavonoid is PEARS!!!!

Grilled pears, roasted pear desserts, pear butter and of course Dr. Mike says get those 10,000 steps every day no excuses.

I recently lost my pedometer and he chastised me and said you should have had a spare. So no excuses, holidays or otherwise, aim for 10000 steps a day. Line dance around that buffet table and make the holiday time about giving, sharing, a wonderful memories. Don't let the focus be on the eating but on the spirit of the season. Keep your eye on the prize and remember before you put that special felon to your lips is it worth an inch on the hips. Does it really taste as good as skinny? Healthy?



Holidays are intended to be social gatherings with friends and family, not eating frenzies.
Emphasize the social interaction. Plan activities to make the day special: Visit a local pumpkin patch, volunteer at a food bank, or attend local parades or other celebratory events. I love Christmas pageants, programs and concerts. If possible, include group walks or sports activities so that you can burn calories while having fun; how about walking the neighborhood to look at the lights. Most towns celebrate the lighting of the tree in the town square.
By focusing on the company of those around you, you can celebrate the true spirit of the holidays and make lasting memories with your family and loved ones.
Learn some tips for eating healthy during the holidays in this video from Discovery Health's "Body Invaders."



Continue Learning about Healthy Holidays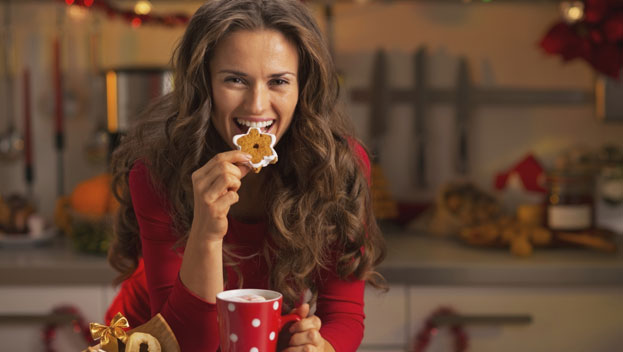 An ER doctor reveals top holiday accidents and ways to prevent them with these Christmas safety tips for happy, healthy holidays.