To help control calorie intake over the holidays, focus on the quality and volume of foods you put in your body. In this video, bariatric surgeon Michael Snyder, MD, explains why it's so important to build and arrange your meals around protein.
To control calorie intake at a holiday party, you should fill your plate with tiny-calorie foods (vegetables) and lean proteins, like shrimp. Watch fitness expert Jorge Cruise give some tips for keeping your calorie intake down during the holidays.
One good way to watch your calorie intake during the holidays is to keep an eye on your liquid calorie intake. Punches, ciders, cocoas, flavored coffee-based drinks and alcoholic beverages add calories while not providing satiety (a feeling of fullness). A drink can add a surprising number of calories to your day; a large cider is the equivalent of eating a donut, for example. To burn off the calories in a small hot chocolate, you need to run a mile or more. Experiment with low sugar or calorie free options, and don't forget our good friend water.
Try following these tips to avoid overeating and control your calories throughout the holiday season:
Don't go to a party hungry. Eat a light snack before going out.
Choose only the foods you really want and keep the portions small.
Make a conscious choice to limit high fat items. Fill up on lower calorie, nutrient dense foods such as fruits, veggies, lean meats and whole grain breads.
Drink plenty of water.
When you arrive at a party, avoid rushing to the food. Go enjoy some conversation with friends and family first.
Eat slowly and enjoy each mouthful.
Hold your glass in the hand that you normally eat with to make finger foods less accessible.
Contrast flavors, textures and temperatures for more satisfaction in your eating.
Avoid grazing while. Little nibbles can really add up!
Be physically active every day. Take a walk after a meal if you can.
Continue Learning about Healthy Holidays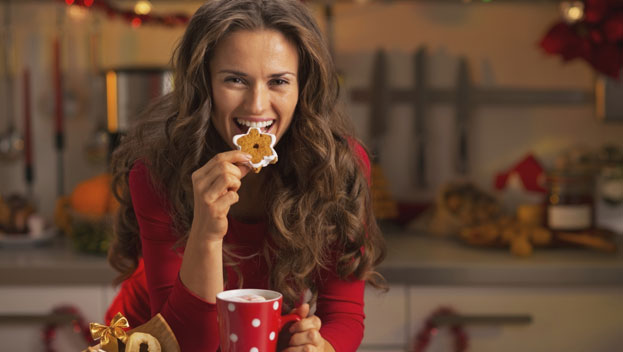 An ER doctor reveals top holiday accidents and ways to prevent them with these Christmas safety tips for happy, healthy holidays.