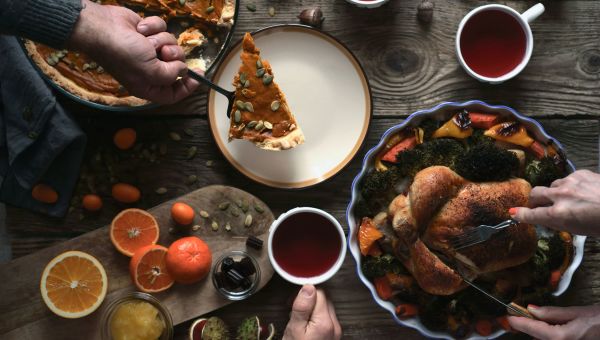 Healthy Holiday: 8 Holiday Side Dishes That Won't Derail Your Diet
These sides will definitely steal the show at your next holiday feast.
1 / 8
By Olivia DeLong
If you're like most people (us included!) you probably know that you're packing in a lot of extra calories at your traditional holiday dinner. But you might not have to.
While we don't recommend that you completely avoid your grandmother's made-from-scratch chocolate pie, healthier side dishes can cut some calories, leaving room for the pie and other must-have seasonal fixings. Click through to find delicious side dishes—perfect for any holiday celebration.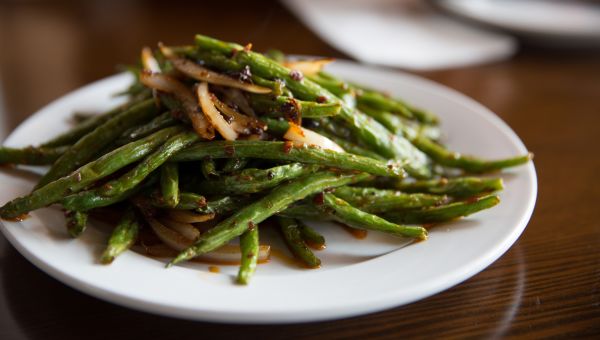 2 / 8

Sautéed Green Beans

Green beans are easy to make, rich in health benefits and everybody loves them—even the kids. The pod vegetable is packed with vitamins A, C and K, along with minerals like potassium, iron and magnesium. Green beans are also a good source of the kinds of nutrients needed to keep your immune system strong—an extra bonus during cold and flu season. This sautéed recipe takes less than 15 minutes to make.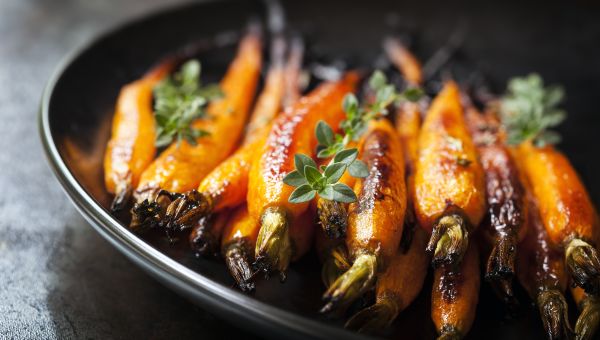 3 / 8

Garlic-Roasted Carrots

Saving a place for carrots on your holiday table is a smart idea. This colorful veggie is rich in beta-carotene, which your body converts into vitamin A, an essential nutrient for eye health, glowing skin and a strong immune system. While creamed carrots may be a staple on your holiday menu, roasting them is a delicious, healthier way to serve them. A few minutes in the oven brings out their natural sweetness, making for a sweet and savory side.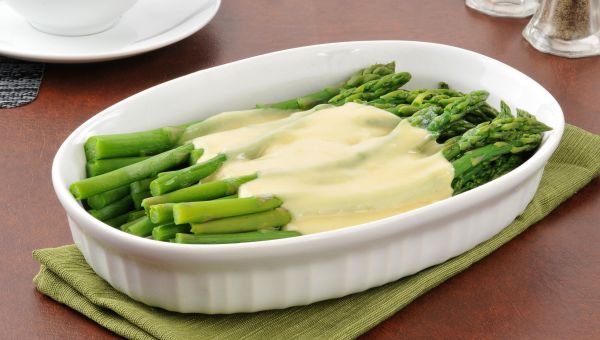 4 / 8

Dijon Vinaigrette Asparagus

It's no secret that asparagus is loaded with nutrients, but the vegetable also contains inulin, a prebiotic fiber that nourishes the good bacteria in your gut, helping you to fight off disease. Switch things up a bit and include this tangy side with your turkey or ham—it's sure to be a hit for years to come.
5 / 8

Garlic mashed cauliflower

Skip the traditional carb-heavy holiday dish and make room for this mashed masterpiece on the family table. This veggie-rich recipe has the same texture and flavor of mashed potatoes, with fewer calories and carbohydrates.

To whip up a batch for your family gathering, chop and steam a head of fresh cauliflower. Once your veggie is tender, drain and mash with a heaping spoonful of plain, nonfat Greek yogurt for creaminess. Add minced garlic, a drizzle of olive oil and your favorite herbs and spices, like black peppers, thyme, rosemary and chives, and stir until combined.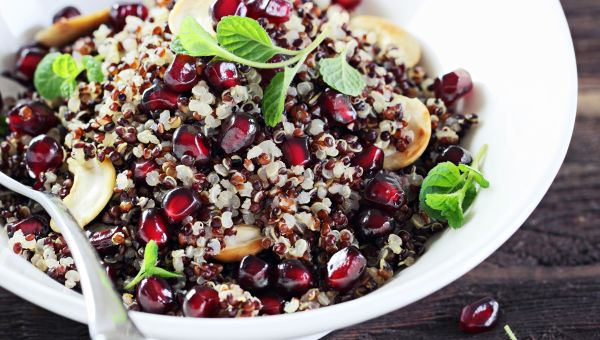 6 / 8

Sautés Brussels sprouts with turkey bacon

Processed meats, like bacon and even turkey bacon, shouldn't be a daily staple in your diet. But, that doesn't mean it can't be enjoy on occasion—and the holidays may be just the right time. This flavorful combination combines crispy turkey bacon healthful ingredients, like Brussels sprouts. These green bulbs are packed with vitamins C and K, which help protect your body from free radical damage and promote strong bones.

Ready to get cooking? With just a drop of olive oil, fry up a few strips of turkey bacon until crispy, remove from the pan and set aside. In the same skillet, sauté a diced yellow onion and a few cloves of minced garlic, before tossing in a few cups of halved Brussels sprouts.

Crumble the turkey bacon on top, season with salt and pepper and give your side a quick stir before serving.
7 / 8

Spinach and artichoke stuffed mushrooms

Impress your guests with the taste of this baked dish, loaded with immune-boosting vitamin A and a whole lot of flavor. Serve these party pleasers before the main course as a finger-friendly appetizer or set the caps next to your other holiday sides on the dinner table.

They're so tasty, you won't believe they're so easy to make. Simply wash and destem your portabella mushrooms and place them with the underside facing up on a baking sheet. Fill each cap with a mixture of frozen and thawed spinach, a can of drained and rinse artichoke hearts, parmesan cheese and a spoonful of plain, nonfat Greek yogurt.

Top each cap with a light dusting of shredded parmesan cheese and bake in the oven until tender.
8 / 8

Buttery spaghetti squash with crushed walnuts

So long carb-laden pasta coated in sugary tomato sauce! Once you try this veggie-rich recipe, we can almost guarantee you won't be reaching for a traditional pasta dish anytime soon.

Spaghetti squash contains a healthy dose of fiber, which helps promote good digestion, and is low in calories. Nuts, like walnuts, are packed with heart healthy fats and may help keep your feeling fuller, longer.

To whip up your own batch, cook your squash—boil, bake or even toss it in your slow cooker—before shredding it with a fork into noodle-like strands. Stir in a mixture of melted butter or olive oil, chopped walnuts, salt, pepper and fresh sage. Top with a sprinkle of grated parmesan and dig in.