To avoid overindulging at a holiday party, it's important to be full before you go, so that hunger doesn't drive you to make poor choices. In this video, bariatric surgeon Michael Snyder, MD, shares some tips for enjoying the holidays healthfully.
Eating something filling - but low in calories - before you head out to a holiday party can keep you from overindulging this holiday season. In this video, nutritionist Rachel Beller explains why you should avoid going to a holiday bash hungry.
Have a high-fiber, filling snack and plenty of water BEFORE the party! Party appetizers can quickly add up if you are hungry when they come around, but fullness can be a powerful weapon against these seemingly harmless little hors d'oeuvres. A quarter cup of nuts or a ¾ cup of berries with nonfat yogurt beforehand will do the trick. If you do arrive hungry, drink two glasses of water BEFORE eating, and save a toothpick for each appetizer you eat. Set a limit and stick to it!
Continue Learning about Healthy Holidays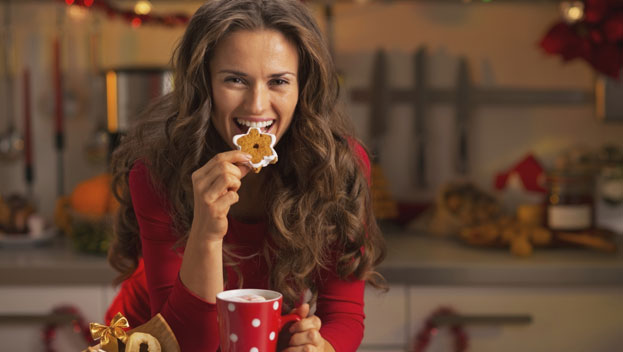 An ER doctor reveals top holiday accidents and ways to prevent them with these Christmas safety tips for happy, healthy holidays.