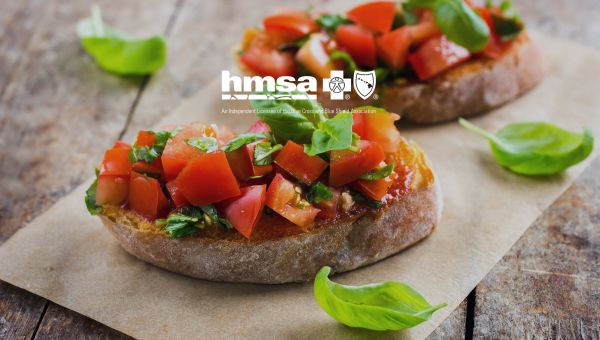 Learn to cook two lighter takes on Italian classics.
On a recent trip to Italy, I immersed myself in the three Ps—pasta, pizza and panini. Every eatery featured these delicious dishes. I was in carb heaven.
Like with any great culinary experience, I wanted to keep on eating these dishes when I returned home. So I worked on recreating some of these wonderful foods, with lower fat and calories, to share with family and friends. It's my souvenir gift to them without having to lug omiyage around in my luggage.
I hope you'll make and share these two classic Roman dishes. For a true Italian flair, when you're ready to serve, make the announcement: Tutti a tavola a mangiare! ("Everyone to the table to eat!") After all, when you're in Hawaii, you can still do as the Romans do: eat well!
Bruschetta
This is a colorful dish that's easy to assemble as a first course to tide you over before the pasta. Italians use the freshest ingredients for this starter dish.
Ingredients
Loaf of whole wheat or sourdough bread, sliced
4 garlic cloves, halved
2 tbsp. olive oil
4 tomatoes, cut in half and sliced
Mozzarella cheese, sliced
Basil leaves, chopped
Salt
Pepper
Balsamic vinegar
Directions
Heat broiler on low setting.
Arrange sliced bread on a sheet pan and toast in oven until golden brown. Keep an eye on the bread to prevent from burning.
Remove from heat and rub halved garlic on top of bread slices until the garlic begins melting into the bread. Repeat with rest of the bread slices.
Brush top of bread with a generous amount of olive oil. The bread will quickly soak up the oil.
Top with a tomato and mozzarella slices.
Return to oven and broil until cheese starts to melt. Again, make sure they don't burn.
Remove from oven and sprinkle with basil and a pinch of salt and pepper to taste.
Drizzle with more olive oil and balsamic vinegar to taste.
Serve on a nice platter.
Spaghetti Carbonara
The name of this classic Roman dish comes from the Italian word for charcoal (carbone). It's believed that it was hearty enough to serve a large number of coal miners after a hard day's work. Others believe the name comes from the black pepper in the sauce that looks like flecks of coal. Whatever its origins, it's a staple in Italian cooking.
Traditional carbonara uses cooked pancetta or bacon. This lighter version uses cooked ham. Although sour cream is not traditionally used for this dish, it makes the sauce creamy with fewer eggs. Tempering the eggs and tossing the hot pasta off the heat prevents curdling. You don't want scrambled eggs in your pasta.
Ingredients
8 oz. uncooked spaghetti
1 tsp. olive oil
1 cup cooked ham, cubed
1 garlic clove, minced
2 large eggs, lightly beaten
1/3 cup grated Parmesan cheese
1/4 cup low-fat sour cream
Salt
Black pepper
Directions
Cook spaghetti according to package directions. Reserve about a cup of the hot liquid before draining the pasta in a colander.
Pour oil in a large nonstick skillet over medium heat.
Add ham and garlic. Cook two minutes, stirring occasionally, until ham is thoroughly heated, and garlic is lightly brown, making sure not to burn it. Add cooked pasta to the pan.
Lightly whisk eggs, cheese, sour cream and a pinch of salt and pepper.
Gradually add some of the hot pasta liquid to egg mixture, stirring lightly with whisk. This will temper the eggs so they don't curdle. Gradually stir rest of water into egg mixture.
Pour egg mixture over pasta. Turn off heat and stir constantly until sauce thickens, about five minutes. Sprinkle with more pepper and grated cheese.
Serve with a side of steamed green vegetables like broccoli and another Italian staple—red wine.
This content originally appeared in Island Scene.