More than 16 million women in the United States have what is considered to be high cholesterol. Standard recommendations suggest that it is optimal to keep LDL cholesterol below 100 mg/dL, HDL cholesterol above 50, and triglycerides below 150. Dietary changes may help prevent or manage high cholesterol. Drug treatment to lower the cholesterol level has not been proven to reduce the risk of developing heart disease for women who do not have heart disease or diabetes.
For women who have heart disease or diabetes, the group of cholesterol-lowering drugs known as statins can prevent heart attack and stroke. The statins available in the United States include atorvastatin (Lipitor), fluvastatin (Lescol), lovastatin (Mevacor), pravastatin (Pravachol), rosuvastatin (Crestor), and simvastatin (Zocor). Statins reduce LDL up to 60 percent. They also raise HDL ("good" cholesterol) a few percent and lower triglycerides. The adverse effects of statins include muscle aches or weakness, liver problems, constipation, gas, indigestion, and stomach pain.
HDL is also raised by exercise, red wine, and niacin (vitamin B3). The doses of niacin needed to raise HDL are high enough to require medical supervision and monitoring of blood tests for safety. Large doses of niacin can also lower triglycerides. Triglycerides are a type of blood fat that confers the risk of heart disease. Triglycerides can be lowered by weight loss and eating a diet low in simple sugars. The best drugs for lowering triglycerides are fibrates, two of which are available in the United States, gemfibrozil (Lopid) and fenofibrate (Tricor). However, while these drugs reduce triglycerides, they do not reduce the death rate.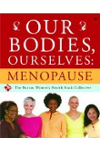 More About this Book
Our Bodies, Ourselves: Menopause
FROM THE EDITORS OF THE CLASSIC "BIBLE OF WOMEN'S HEALTH," A TRUSTWORTHY, UP-TO-DATE GUIDE TO HELP EVERY WOMAN NAVIGATE THE MENOPAUSE TRANSITION For decades, millions of women have relied on Our...
If you have been diagnosed with high cholesterol by your doctor the first step is diet and exercise. Eating healthy and a sensible regimen of regular exercise can help lower you cholesterol. If life style changes alone cannot bring your cholesterol level to the normal range then you may need medication. The most common medications used to treat high cholesterol are statins. Statins are safe and generally well tolerated and not only lower cholesterol levels but reduce one's risk of heart disease.
In addition to lifestyle modifications, which entail eating a low saturated fat and low cholesterol diet, drug therapy is very helpful. For patients with 2 or more major risk factors for heart disease (i.e., high blood pressure, smoking, family history of early heart disease, age 45 or older for men or 55 or older for women, or low levels of HDL cholesterol) or those with a history of heart disease (e.g., heart attack, stroke), statin drugs are very important. If you fall into one of these two categories, then statin drugs when taken regularly reduce your risk of having a stroke or heart attack. That is the most important reason to take such drugs and if you fall into one of these two categories, then using a statin is a standard of care for medical treatment. Statins do have some side effects, but overall they are well tolerated. For those with side effects they can be managed by your medical provider.
Continue Learning about High Cholesterol