Orange juice manufacturers are doing everything they can to make their health food more appealing—including fortifying their juice with plant-derived cholesterol-busting compounds known as phytosterols. A review of 84 scientific studies revealed that getting 2 grams of phytosterols a day—the amount in a couple of 8-ounce glasses of sterol-fortified OJ—could help lower harmful low-density lipoprotein (LDL) levels by more than 8 percent. Check with your doctor first regarding whether citrus will interact with any of your medications. If it does, look for sterol-fortified margarine, milk, soymilk, cheese, or breads instead.
Continue Learning about High Cholesterol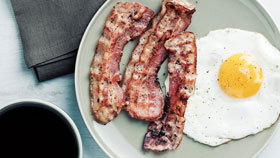 Although blood cholesterol helps digest food and make hormones, too much of it can harden your arteries and cause heart disease. Also known as hypercholesterolemia, high blood cholesterol can accumulate along the walls of your art...
eries, the main supplier of oxygen from the heart to other parts of your body.
More