After you have the physical movements of pranic breathing down, add these powerful rhythm and retention sequences. But one cautionary note before you begin: If you have high blood pressure, you should not hold your breath longer than one second. Although pranic breathing stimulates the navel, which is the body's primary storehouse of prana, it also stimulates the meng mein chakra, which is located opposite the navel on the back. The meng mein controls blood pressure. Thus, for people with hypertension, a longer breath retention could increase their blood pressure beyond their safety range.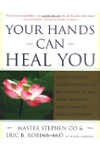 Continue Learning about Hypertension

Clinically known as hypertension, high blood pressure can cause a host of problems if left untreated. The most common type of cardiovascular disease, high blood pressure causes our hearts to work harder by forcing blood to push ag...
ainst the walls of our arteries at an elevated level. Hypertension is the leading cause of strokes and heart attack. It also increases your risk of having heart and kidney failure and hardening of the arteries, a condition called atherosclerosis.
More