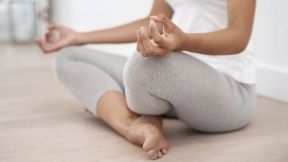 You could lower your blood pressure significantly in 30 seconds if you just do this: deep breathing exercises.
In a study, that simple act helped lower the study participants' systolic blood pressure. In fact, the study participants only had to do it six times to see their systolic pressure dip as much as 10 mm Hg! Not too shabby for a few slow in-and-out breathing exercises.
Blowing Off Steam
The study involved nearly 20,000 Japanese adults with either normal blood pressure or high blood pressure. Some of the study participants sat alone quietly doing breathing exercises, such as taking six deep breaths over the course of 30 seconds. The rest just sat quietly doing nothing for the same amount of time. Both activities were good for the study participants' vitals. But afterward, the systolic blood pressure readings in the deep breathers had dropped much more dramatically than the people who merely sat quietly. (Try this breathing exercise that helps prevent wrinkles, too.)
Deep-Breathing Benefits
The overall blood pressure and pulse rates of both groups were healthier after the quiet time. So the real point here may be that calming activities of any kind are important for relaxing blood vessels and the heart. The researchers suspect that the blood pressure benefits of the two activities in the study were at least partially due to their calming effects on the sympathetic nervous system. (Here are some of the other good things that deep breathing exercises do for your body.)
Lower your blood pressure with other taming tricks:
Use this cheat sheet for delicious ideas on low-sodium cooking.
How's Your Heart Health? Get a quick snapshot of how healthy your heart is with this quiz.