Side effects of spironolactone are increased at higher doses and include the potential for increased potassium in the blood, a slight lowering of the blood pressure, irregular menstrual periods, breast tenderness and enlargement, headache, and fatigue. The increased potassium in the blood is rare in healthy young women. Although breast tumors have been reported in rats treated with spironolactone, this drug has been used for years in humans and has not been directly linked with the development of cancer. There have been no documented cases of breast cancer in more than 30 years of spironolactone usage.
Because spironolactone is an anti-androgen, there is a risk of feminization of a male fetus if a pregnant woman takes this medication. The risk to a fetus and the symptoms of irregular menstrual periods can be improved by combining the treatment with an oral contraceptive. Side effects can be minimized if treatment is started at a low dose of 25 mg/day and increased every few months as needed because the response can take as long as 3 months, as with other hormonal therapies. Once adequate response is attained, dosage can again be lowered to the minimal dose required to maintain adequate results.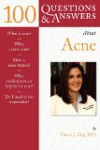 More About this Book
100 Questions & Answers About Acne
100 Questions and Answers About Acne provides you with all the information you need to manage your complexion problems. Written by Dr. Doris J. Day, a world-class expert in the field, this clearly...
Continue Learning about High Blood Pressure Treatment