Learn the steps to take after a diagnosis—and get back to your best life.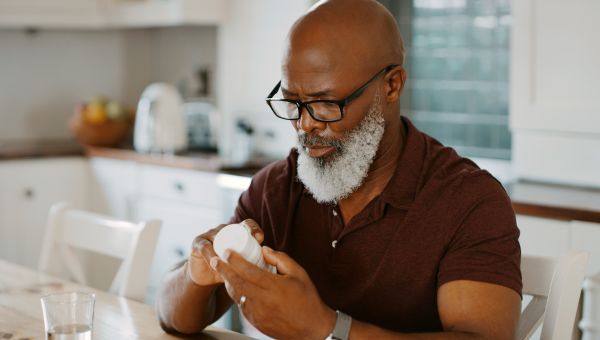 It is estimated that more than 2 million people in the United States are living with chronic hepatitis C, a viral infection that causes inflammation in the liver and can lead to complications such as cirrhosis, liver failure, and liver cancer. The U.S. Preventive Services Task Force recommends that all individuals between the ages of 18 and 79 get screened for hep C.
If you have hep C, know that the treatments available are very effective, and there are steps you can take to get back to your healthiest life.
Understand your symptoms and diagnosis
A majority of people with acute, or short-term, hepatitis C—around 70 or 80 percent—don't experience any symptoms. But some people will have symptoms like fever, fatigue, joint pain and loss of appetite, among others. Those with chronic hep C are usually symptom-free, as well, but could have more serious liver issues years down the road. Chronic hep C occurs when the virus stays in the body, and that can cause liver damage, liver failure and liver cancer. In some cases, these liver issues can lead to death.
On the flip side, half of patients diagnosed with hep C go on to live healthy lives with few—if any—health problems.
When first diagnosed, the best thing you can do is learn how to live with the infection and work with your doctor to begin the healing process.
Learn more about your condition
The more you know about your condition, the better prepared you'll be to speak with your doctor about treatment options and lifestyle changes, like avoiding drugs and alcohol, as well as medications that may cause further liver damage. Resources like the Hepatitis C Association can provide you with information to consider when discussing a potential treatment plan. Arming yourself with the knowledge to improve your health increases the chances of treatment being successful.
Talk with your doctor about treatment options
Depending on the type and progression of your condition, treatment options may vary. You and your doctor will work together to determine the plan that best fits your needs, so it's important to be well-informed and honest. The most common form of treatment for hep C is oral "antiviral" medication, sometimes prescribed alongside ribavirin (without interferon) to increase the potency and potential for success. Treatment lasts between 8 and 24 weeks and may come with side effects such as nausea, fatigue, headache and insomnia.
Join a support group
Surrounding yourself with people going through similar experiences can be comforting and offers open communication, emotional release and understanding. Support groups can also encourage healthy lifestyle changes and help you form relationships with people to hold you accountable to those changes. Ask your physician for information about local hep C support groups and other resources available to those living with liver conditions. Remember, with the right treatment and lifestyle adjustments, hep C doesn't have to derail your life.
Medically reviewed in October 2018.