Hemorrhoids are very common during pregnancy. In this video, obstetrician and gynecologist Evelyn Minaya, M.D. explains why -- as well as what hemorrhoids really are: The answer may surprise you.
Hemorrhoids are very common in pregnancy. The veins near the anus bulge because of the relaxing effects of pregnancy hormones on the vessel walls as well as the increase in blood flow to the area. That, combined with the increased pelvic pressure from the growing uterus and the straining from more difficult bowel movements, causes distention of the blood vessels that poke through the sphincter that keeps the anus closed.

When you're trying to move concrete-hard poop towards the exit (it's hard because it moves so slowly through the colon), those swollen hemorrhoid veins are scraped, so they bleed and can cause pain or itching. Thankfully, hemorrhoids usually go away after delivery.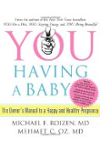 Sometimes constipation that can occur during pregnancy may be accompanied by hemorrhoids, enlarged veins near your anus. You may get hemorrhoids during pregnancy even if you don't have any problems with constipation. They occur, in large part, because the growing baby puts pressure on these veins, causing them to swell.

Try not to strain during bowel movements, because that could make your hemorrhoids worse, leading to itching, soreness or even bleeding. If you have hemorrhoids, increase your fluid and fiber consumption and check with your healthcare professional before taking any medication.
Continue Learning about Hemorrhoids