When exercising after heart surgery, you need to be mindful of some conditions:
Your training and racing heart rate should, on average, stay beneath the beats per minutes (bpm) that your surgeon recommends for you.
If you have chest pain that persists, it might be related to pericarditus and you should discuss this with your surgeon.
If you experience any abnormal heart rhythms when training - either accelerated or skipped beats - your surgeon might order a monitor for you to wear and evaluate whether this is anything significant, perhaps an arrhythmia, in which case, no training.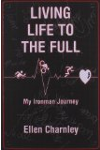 Continue Learning about Heart Surgeries