When you eat sodium or salt, your body holds on to water, which can make your heart failure worse. Eating low sodium (low salt) food can make you feel better. A low sodium diet means eating between 2,000 and 3,000 milligrams (mg) of sodium per day. Ask your doctor or nurse what is right for you.
Things you can do:
Read food labels for the sodium amounts
Choose foods low in sodium
Eat:
Fresh fruit
Fresh vegetables
Fresh meat
Fresh fish
Things not to do:
Do not put salt on your food
Do not eat:
Cheese
Deli meat
Canned foods
Salted snack foods
Mixed spices with hidden sodium (salt)
Your doctor, nurse, or dietician can help you choose foods that are low in sodium. They can help you change your favorite meals and recipes to be lower in sodium.
Foods high in sodium to avoid if you have heart failure include:
Cured, smoked, or canned meats including lunch meats and sausage
Vegetable or tomato juices
Foods with salt toppings such as saltines
Cheese, especially processed cheeses
Canned vegetables unless low sodium or no salt added
Regular canned soup or broth
Seasonings/condiments such as soy sauce, steak sauce, mustard, ketchup and monosodium glutamate (MSG)
Processed foods such as box mixes of pasta, rice, or stuffing
Foods in a salt brine such as sauerkraut, pickles, olives, and salted fish
Pizza
Continue Learning about Heart Failure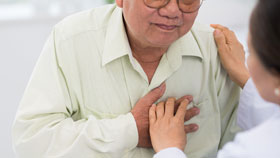 Heart failure occurs when the heart can't pump enough blood to meet the body's needs. It can follow a heart attack or develop gradually over many years. Learn more about heart failure from our experts.