There are two major types of aortic valve prostheses - mechanical and tissue.
Mechanical replacement valves have lifelong durability, however a blood thinning drug must be taken for the rest of the patient's life to prevent blood clots from forming on the hinges of the valve. Besides being somewhat of a nuisance, taking blood thinners also create a small risk of bleeding complications.
Tissue or "bioprosthetic" valves are made of cow or pig tissue. Because they are made of natural materials, there isn't a need to take blood thinners. However they are less durable, lasting about 10-15 years.
Your doctor will help you make a decision on which kind of aortic valve replacement to pick based on your age, occupation, lifestyle, medical history, and preference.
Continue Learning about Heart Disease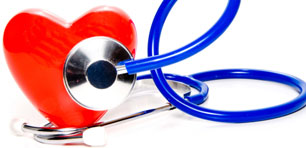 Heart disease is the number one killer of adults in the United States. In fact, one in every three deaths is from heart disease and stroke, equal to 2,200 deaths per day. Taking care of your heart is essential for a long life. You ...
can treat your ticker right by eating healthy, staying active and managing your stress.
More