Two or more servings per day of whole grains lower your risk of death from heart disease by 30%. One study in the American Journal of Clinical Nutrition found that women who eat three servings of whole grains a day have half the risk of developing heart disease compared to women who eat only refined grains.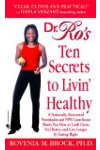 More About this Book
Dr. Ro's Ten Secrets to Livin' Healthy
In this one-of-a-kind book, Dr. Rovenia M. Brock—known as Dr. Ro™ to fans of Black Entertainment Television's Heart & Soul—reveals practical, satisfying ways for African American women to eat...
While research shows that whole grains can reduce your risk of heart disease, most Americans are falling short of the recommended minimum three servings of whole grains daily. Make sure that at least half your grain choices are whole grains, such as oats, 100% whole wheat bread, brown rice, and popcorn to gain that heart-healthy benefit.
Continue Learning about Heart Disease