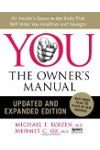 The most important factor in your heart's health and ability to pump more blood is its blood supply—the efficiency of your coronary arteries to transport blood to and from your heart. The most common barrier to that supply is coronary artery disease, or CAD, in which the arteries become narrowed or blocked. When that happens, your heart muscle weakens from lack of blood.

Another way to think about your heart and vascular system is by picturing a subway or train system. Your heart is the main station, the hub, the place through which all trains must travel. The arteries and veins are the tracks and tunnels—the pathways that flow throughout your body, dropping passengers (blood) to stations all over your body (the Saturday evening train toward those Jockeys is especially crowded).

Now, if there's a break in the tracks—or some kind of obstruction that won't let the trains through—customers get irate. If that blockage goes on long enough, it can put some organs right out of a job. In your body, a station without blood is a station that will shut down—and could shut down many stations around it. If that Saturday train doesn't make it to its final destination, for example, that's impotence.

Luckily, you can control your arteries' health through what you eat, how you exercise, and how you respond to social and environmental stresses. You have the power to make your heart, the most life-giving organ in your body, both stronger and younger.