"Stenosis" is the medical term for a blockage or narrowing of a passage. Critical aortic stenosis refers to the dangerous and extreme narrowing of the aortic valve in newborn babies.

The aortic valve is the passage through which blood flows out of the lower left chamber (the left ventricle) of the heart to reach the aortic artery, which circulates oxygenated blood to the body. Before birth, a baby can survive well with only one well-functioning ventricle due to unique blood flow patterns. That is not the case after birth. With critical aortic stenosis, the left ventricle is not able to pump blood adequately through the narrowed aortic valve into the aorta. As a result, a baby with this defect can become very ill soon after birth. Unless the condition is treated immediately, the condition can be fatal because the body is deprived of oxygenated blood.

Continue Learning about Heart Disease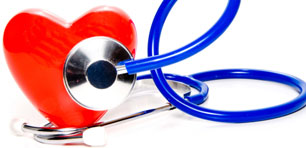 Heart disease is the number one killer of adults in the United States. In fact, one in every three deaths is from heart disease and stroke, equal to 2,200 deaths per day. Taking care of your heart is essential for a long life. You ...
can treat your ticker right by eating healthy, staying active and managing your stress.
More