Cardiac tamponade is a life-threatening condition in which excess fluid around the heart compresses the heart, impairing the heart's ability to pump blood normally. Cardiac tamponade can occur after heart surgery, or result from infection, end-stage lung cancer, kidney failure, heart injury, or many other possible causes.
Symptoms of cardiac tamponade may include:
shortness of breath or rapid breathing
dizziness
fainting
anxiety or restlessness
chest pain that may get worse with coughing or deep breathing
sharp pain in the neck, shoulder, abdomen or back
heart palpitations
pale, grayish or bluish skin
stomach swelling
Call 911 or go straight to the emergency room if you experience symptoms of cardiac tamponade.
Continue Learning about Heart Disease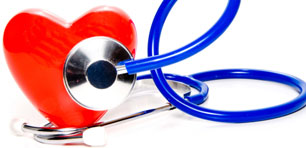 Heart disease is the number one killer of adults in the United States. In fact, one in every three deaths is from heart disease and stroke, equal to 2,200 deaths per day. Taking care of your heart is essential for a long life. You ...
can treat your ticker right by eating healthy, staying active and managing your stress.
More