As important as it is to work closely with yourdoctor, it is only the first step. To make a lastingdifference in your heart health, you'll also needto educate yourself about heart disease and about the kinds ofhabits and conditions that can raise your risk.
Risk Factors are as follows:
Smoking
High Blood Pressure
High Cholesterol
Family history
Diabetes
This answer from the National Heart, Lung and Blood Institute has been reviewed and/or edited by Dr. William D. Knopf.
Cardiac risk factors include both what would be considered modifiable and non modifiable. Nonmodifiablerisk is really imparted by age and genetics, for which you can't control. The vast majority of risk, however, is based on lifestyle choices that are indeed modifiable. It is estimated that 75% of all chronic diseases are lifestyle mediated and that is especially true for heart disease. The most common risk factors for heart disease include: High Blood Pressure, Obesity,Diabetes, High Cholesterol (the combination of these 4 are called "the metabolic syndrome")and smoking. Lifestyle choices that contribute to the development of these risk factors include lack of physical activity, poor eating choices, lack of an ability to manage stress, depression,chronic worry and anxiety, type A personality and social isolation. We often tell our patients that "you can't change your genes but you can fit better in them". In other words, by focusing on things like a good, healthy diet and exercise – the more we can contribute to heart health.And, it often does not take dramatic changes to begin having a positive affect. Starting with small changes in your existing diet and your existing exercise routine (if any) can make a big difference. Small steps over a period of time can become very large leaps.
You cannot change some factors associated with an increased risk of heart disease, such as age. But, you can modify others, such as smoking. Your own choices make a difference.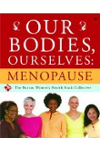 More About this Book
Our Bodies, Ourselves: Menopause
FROM THE EDITORS OF THE CLASSIC "BIBLE OF WOMEN'S HEALTH," A TRUSTWORTHY, UP-TO-DATE GUIDE TO HELP EVERY WOMAN NAVIGATE THE MENOPAUSE TRANSITION For decades, millions of women have relied on Our...
Continue Learning about Heart Disease