Exercising regularly is one of the easiest things you can do to guard against diseases of the cardiovascular system. But if you have coronary artery disease, speak with your doctor and follow his or her advice on physical activity. Also, if you have chronic angina, you will need to take precautions so as not to trigger an episode. But as long as you have your doctor's okay, something as simple as walking every day can be a great way to strengthen your heart, even if you have health issues.
Exercise strengthens your heart and lungs, improves your circulation, lowers your blood pressure, keeps your weight down and helps your body maintain steady blood sugar levels. You may experience these benefits by engaging in as little as 30 minutes of low- to moderate-intensity physical activity on most days of the week. If you have angina, take frequent breaks -- or consider breaking those 30 minutes up into smaller 10-minute walks here and there throughout the day.
People with certain conditions or health histories, such as heart disease, angina or high blood pressure, may need a medical exam to help determine if it's safe to exercise. Your doctor may wish to measure your blood pressure and cholesterol levels or have you do an EKG or an exercise stress test to see how well your heart responds to physical exertion.
People who have experienced congestive heart failure, a heart attack, or a stroke may need to follow a medically supervised exercise program where nurses, therapists, or other healthcare providers can monitor them while they exercise. Or, in some cases, your doctor may prescribe special low-intensity activities and provide a plan for increasing the duration or intensity levels only when appropriate for your condition. Generally, even people who have experienced a cardiac event, such as a heart attack or a stroke, will benefit from exercise. But proceed with caution and with a doctor's supervision. Pay attention to your body, and never ignore pain or discomfort to continue your workout.
If you have heart disease, exercise is a low-risk and healthy thing.
Continue Learning about Heart Disease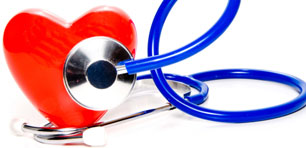 Heart disease is the number one killer of adults in the United States. In fact, one in every three deaths is from heart disease and stroke, equal to 2,200 deaths per day. Taking care of your heart is essential for a long life. You ...
can treat your ticker right by eating healthy, staying active and managing your stress.
More