Smoking certainly has an impact on heart disease. Doctors know from many observational studies that smoking accelerates coronary artery disease. It leads to the development of plaque in the arteries and eventually a heart attack. Quitting smoking lowers your risk for heart attack.
When you smoke, you expose your heart and blood vessels to nicotine, carbon monoxide, and other harmful substances contained in smoke. These agents have a direct influence on the inner walls of blood vessels, such as causing blood pressure to go up and cholesterol levels to climb. Smoking also causes the blood vessels that allow blood to circulate throughout your body to constrict. These blood vessels have a smooth inner lining, which is vulnerable to damage from cigarette smoking. This damage diminishes the ability of the arteries to prevent blockages and contributes to the formation of plaque deposits on damaged areas of the arteries, as well as making it more likely that dangerous blood clots will form. The combination of these factors means that smoking deprives the body's tissues of critical oxygen that is carried in the blood stream. Quitting smoking is one of the best things a patient can do to maintain or improve overall cardiovascular health.
Continue Learning about Heart Disease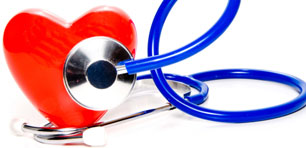 Heart disease is the number one killer of adults in the United States. In fact, one in every three deaths is from heart disease and stroke, equal to 2,200 deaths per day. Taking care of your heart is essential for a long life. You ...
can treat your ticker right by eating healthy, staying active and managing your stress.
More