Your doctor will tell you if you have aortic stenosis. It can be diagnosed with an ultrasound test of the heart. Your doctor may order this test if your physical exam or symptoms suggest a problem.
Someone with aortic stenosis (AS) may experience all of some of the following symptoms:
Shortness of breath particularly during exertion
Chest pain (angina)
Dizziness or fainting
Heart Palpitation
Weakness and tiredness
Leg swelling
If you are experiencing these symptoms you should make an appointment with your primary care physician who can listen to your heart for a murmur. If your physician determines you require further evaluation he/she will refer you to a specialist who can do further testing such as an echocardiogram or a CT scan to determine whether you have AS.
Continue Learning about Heart Disease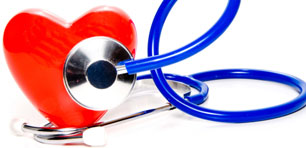 Heart disease is the number one killer of adults in the United States. In fact, one in every three deaths is from heart disease and stroke, equal to 2,200 deaths per day. Taking care of your heart is essential for a long life. You ...
can treat your ticker right by eating healthy, staying active and managing your stress.
More