You increase your risk of heart disease in two ways if you're seriously overweight (a body mass index of above 35-for example, being 5 feet 8 inches and 230 pounds) or if your waist size is 40 inches or greater for men and 35 inches or greater for women (measurement around the belly button). Of course, many people cheat on the latter criteria by measuring the size of their belt, which unfortunately has been hiding under a beer belly for a few years.

The weight carries two important risks. First, you're much more likely to have or develop other risky conditions like high blood pressure, diabetes, or lipid disorders such as high LDL cholesterol levels, sleep apnea, or arthritis, which will inhibit your desire to exercise.

Second, if you carry your extra weight around your waist, you're at an even higher risk because the fat cells in abdominal fat secrete a hormone that directly increases inflammation in your blood vessels. The loss of even 10 percent of your body weight will significantly improve your overall and cardiovascular health and can make you nine years younger in RealAge.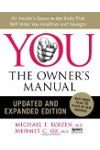 Continue Learning about Heart Disease